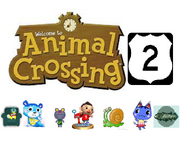 EA decided to make Animal Crossing 2 real, but as a sequal to Wild World. It is on DSi.
The player decides they want to move away and get a life, so they take the cab to a town, but it was recently knocked down by a tornado. The player must build shops and houses.
Villagers
Edit
Every villager from the original Animal Crossing or Wild World.
Everyone from GameCube and ACWW.