"Sometimes you shouldn't shake tree's [Player]. You might get stung by bee's."
-Danté, Future                               
Danté (ドカン,Dokan)  is a new smug octopus. Unlike Octavian he is not cranky. Danté's name has a é in his name  which no villager has at this moment 
Danté

Gender

Male

Personality

Smug

Species

Octopus

Birthday

December 9th

Initial Phrase

"Octo Octo"

Initial Clothes

Fresh Shirt

Coffee

Blue Mountain

3 sugar

2 milk

Picture Quote

"Wow I can't believe were friend's what's next? BEST FRIEND'S!!."
Appearance
Edit
Danté is a smug octopus villager. He has  light green color skin,with Charlie Brown looking kind of hair and, mint polka dots on his tentacles. Danté has small, black eyes,and has orange cheeks with a purple circle in his mouth. Danté has small looking eyebrows which are black like his eyes. Danté's clothes can be found from the Able Sister's. His initial shirt is the Fresh shirt.
Personality
Edit
Below is a brief description of the smug personality. For more information, click here.
Danté is a Smug villager, meaning he will come off as a gentleman. Smug villagers flirt with female players and are a mix of various personalities. They are kind, lively, but may be conceited. Smug villagers may comment on how the player looks, or occasionally dance. They fall asleep at 1 a.m. and wake at 8:30 a.m.. Despite their lack of sleep, Smug villagers are not cranky from lack of sleep
Danté's house has Rococo type of theme in his house. He has a Rococo bed, Rococo dresser, Rococo sofa and Rococo table with a Rococo vanity.He has "K.K.Steppe" (If Danté has a music player) Danté's house almost looks like Muffy's house.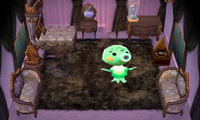 Names in other languages
Edit
| | | |
| --- | --- | --- |
| Italian | Calamacoli | A pun on Calamari and the Italian word of tentacles. |
| Spanish | Presuculos | The end of tentacles is culos and Presu the beginning of smug in Spanish |
| German | Mattschig | A  pun on matschig meaning squishy, meaning that octopi are squishy and, a common boy name Matt. |