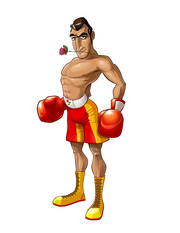 Don Flamenco is a jock villager introduced in Animal Crossing: Inside the Ring! 
Appearance
Edit
Don Flamenco appears as a boxer of Hispanic origin. Strangely, by default he is shirtless (but wears boxing gloves instead) and his default phrase is "Olé!".
Personality
Edit
He has a jock personality, which means he will have a keen interest in sport and fitness, making him appear competitive and in some cases rude when talking to other villagers, usually criticizing their fitness. He will appear slow-witted and absent-minded when talking about deep, meaningful things. He will get along very well with peppy villagers, who could be around the same age, but get confused by the choice of lifestyle followed by lazy villagers, who appear opposite to the jock personality. He may offend and upset snooty and cranky villagers.
As with most new villagers introduced in Inside the Ring!, Don Flamenco's home has a boxing theme. He has the ring, the bell, the matching Boxing wallpaper and carpet, and boxing mats on the floor. If you use the bell, his wallpaper will cheer. This is a programmed action for that particular wallpaper. His tape deck plays K.K. Pompas de Kevin .
Interestingly, Don Flamenco spends most of his time in his home using the Internet. He can be seen commenting on videos on NookTube, signing his comments with "ps I'm Don. Don Flamenco."