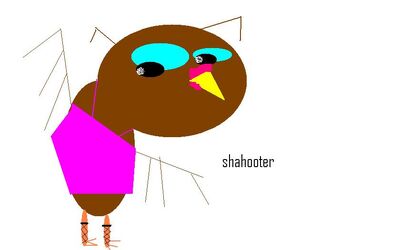 Write the first paragraph of your page here
shahooter about her
shahooter is the owl villager (new race by me including hoodieblowphish whovilla hooanne and hooplah (XDD)) she is sassy personality (new personality by me including sassy cutie funny weirdo and silly) she dress in a pink camosol and with blue eyshadow and a pink lipstick around the beak. she also have fishnet style stockrings. 
her saysing is "shahoo-hoo"
she will appear in next game!!!
Edit
cool facts
Edit
she is very wanted in the villager online trade many people will trade there favorit villager just for shahooter!